STUFF
The natural power of oils to rescue the skin
Text: Anna Plaszczyk, photos: press release
2 April 2020
Oils are winning the hearts of women across Europe. More and more often they use oil for daily care of their skin and hair. Why it is worth to reach for them?
Oils, thanks to their unique properties, for thousands of years, have been used for skin care. They are a valuable source of vitamins (including A, C, D, E and B group), omega 3, 6 and 9, minerals and nutrients. They perfectly moisturize and restore the lipid layer of the epidermis. They have many applications- they can be applied to the face, body, nails and hair, they are ideal for a relaxing massage.

FLOSLEK Cosmetic Laboratory Experts, inspired by nature, have created DERMO EXPERT oils. These are compositions of carefully selected oils, tailored to the individual needs of the skin. Rich in natural ingredients – they restores skin firmness, tension and radiant appearance. They reduce wrinkles and the skin becomes more flexible and soft to the touch. DERMO EXPERT oils are designed for intensive care of face, neck and cleavage. They can be used depending on the needs during the day and /for a night as independent dermo cosmetics or in addition to the health care (under cream or mask). Applied at night - they intensely nourish the skin during sleep, when repair processes are occurring. Applied on the day – they protect the skin against adverse external factors and prevent it from drying out during the day. With a light, satin consistency they are absorbed perfectly and do not leave an oily film on the skin. While applying oils, it is worth to make a relaxing face, neck and cleavage massage, which will strengthen the product effects. Anti-aging DERMO EXPERT oil contains 6 natural oils having active firming and rejuvenating properties. These are: monoi oil, linseed oil, rose oil, almond oil, apricot oil and castor oil. The oil, used regularly, ideally nourishes the skin, restoring its velvety softness, elasticity and flexibility.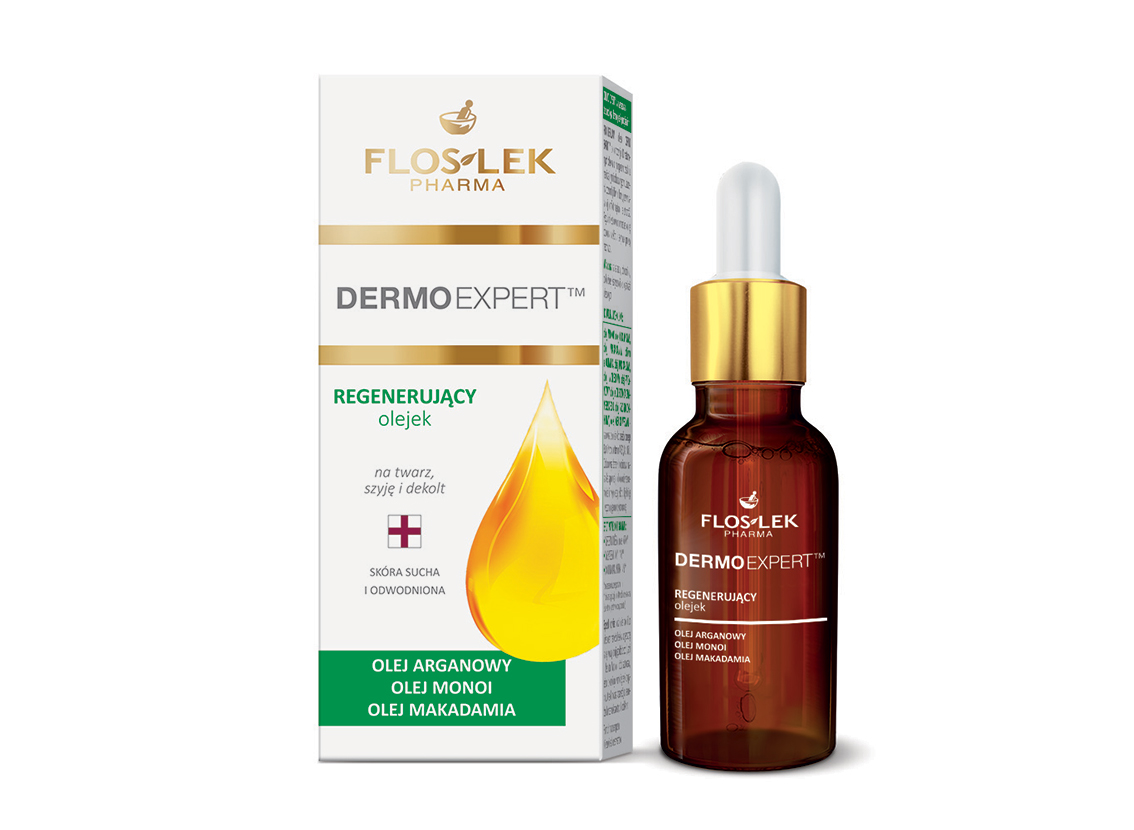 However, regenerating DERMO EXPERT oil contains 10 natural oils of synergistic moisturizing and rebuilding properties. The composition consist of: monoi oil, argan oil, macadamia oil, almond oil, apricot oil, castor oil, sunflower oil, meadowfoam oil, olive oil and macaw-fat oil. Oil supplements lipid levels in the skin, restoring its comfort, softness and flexibility. It is recommended for a dry, dehydrated skin and with reduced flexibility.

FLOSLEK oils do not contain preservatives and can also be used by people with sensitive skin. Specialist tests, conducted by independent research laboratories, have confirmed their efficacy and safety. It should be noted, that the company does not test its products on animals. DERMO EXPERT oils are available in bottles with a dropper, which allows for a precise and hygienic application.

Anti-aging DERMO EXPERT oil
Capacity: 30 ml
Price: 24,99 zł

Regenerating DERMO EXPERT oil
Capacity: 30 ml
Price: 24,99 zł