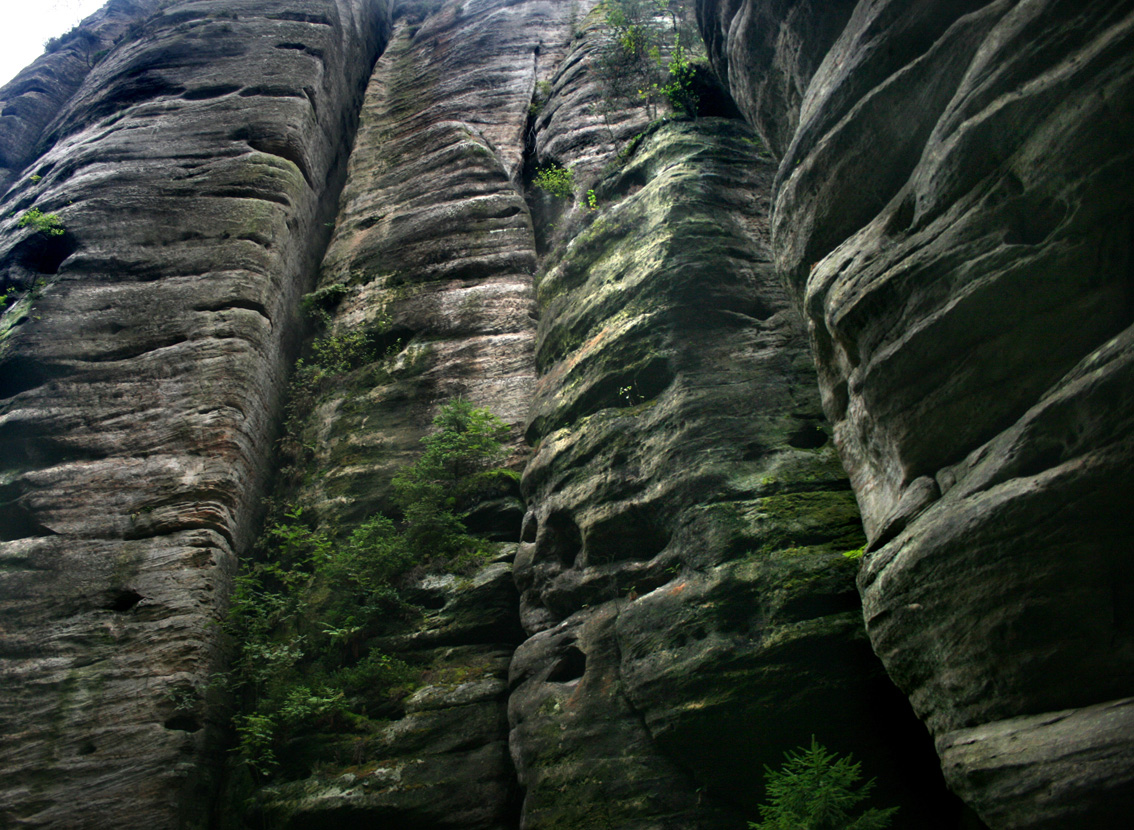 PLACES
Rock city
Text and photos: Anna Plaszczyk
21 March 2021
Rock Crown, Butchers Axe, Temple Walls, Krakonoš Toothpick, Watchtower or Forest Bear - all this await tourists in Teplice Rock City. This picturesque place, situated only 30 km from Kudowa Zdroj, will surprise and enchant everyone, even the most demanding tourist.

Teplice Rock City, although much larger and more scenic than Adršpach, is just less popular. While the "neighbour" Adrspach, from the other side of the massif, is visited by the thousands of tourists, the Rock City is quiet and peaceful.

The circular trail in the Rock City is a 6-km loop. We start in Teplice on Metuja. Already at the very beginning attractions and at the same time - a real challenges await us. It is the castle Strmen. However, in order to admire it - we have to walk 300 (!) very steep stairs. It is difficult to fall down from them, at least by ¾ of the way, but for not warmed-up person who is only at the beginning of the trail, climbing up can be a real challenge. In the last phase of the climbing, stairs turn into a steep ladder, placed on a vertical wall. It is not recommended for people with a fear of heights or families with children.

After climbing, the view from Castle Strmen will reward you all your efforts. Way back from the Castle is the same way, if you do not feel strong enough - you can always easily pass it by and go ahead. There are no other difficult and dangerous challenges on this tour.

The great advantage of Rock City is excellent marking of trails and all their attractions. Almost every rock worth noting has its own plaque. Though the beginning of the route is scenic, still it is not half as beautiful as what awaits us after passing the Rock Bride. Rock City starts here. We pass the Great Temple Square (it is the place where religious refugees found a shelter during the Thirty Years War and Counter-Reformation), Small Temple Square, the Dog Head (as for me it looks like Snoopy from a well-known cartoon), Lions Cage and Rock Crown. Impressive Temple Walls, Temple, Tsunami Sea Wave (Xb in climbing difficulty scale), Sugarloaf, Krakonoš Toothpick – in Rock City, nearly every rock has a name, and each one is impressive, thanks to the shapes, dimensions and colours.

The last attraction on the loop is Siberia, where even in the late spring we meet ... snow! This 260m rock rift was partially made by man. From Siberia we go straight to Rock Square and choosing the trail next to the Rock Castle we go back to Teplice on Metuja.

Rock City is impressive. Monumental, ingeniously "designed" by nature, yet delicate and romantic. The trail, beyond Rock Castle, is neither difficult nor it requires excellent physical condition. This is the place where you will relax with the whole family. There you can also take your dog - under the condition that he is on a leash.