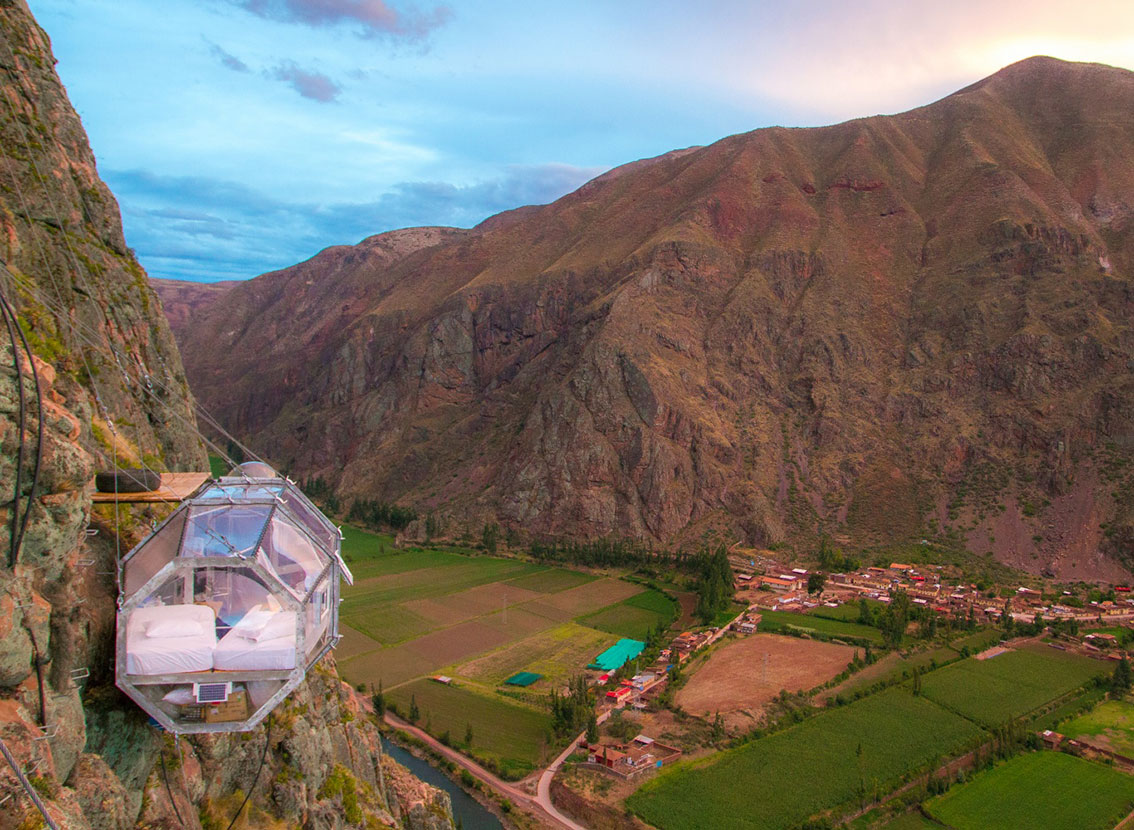 PLACES
An unusual hotel - Skylodge Adventure Suites
Text: Anna Plaszczyk, photos: press release
25 September 2020
Have you ever dreamt about sleeping 120 meters above the ground, hanging on the rock? We inform you that your dreams can come true! In the Sacred Valley of the Incas in Peru an exclusive Skylodge Adventure Suites have been created, you can feel like in a condor's nest there. But no means of transport will take you there to the door of this unusual hotel! Clear, luxurious capsules have been hanged on the top of one of the mountains.

This unusual hotel is located in the Sacred Valley of the Incas in Peru. Skylodge Adventure Suites offer accommodation in a fully transparent bedroom, suspended on a climbing rock. It is the best way to appreciate an impressive view of this magical and mystical valley. The philosophy of Nature Vive company, the owner of Skylodge hotel, is to share the mountain experience with people of all ages and to show them the opportunities connected with mountain expeditions. That is why the worlds first hotel hanging in the rocks has been created. The price includes breakfast and dinner with wine, transport from Cuzco and the care of professional, bilingual guides.

Experienced guides are necessary to get to the accommodation capsule. In fact the guests have to climb Via Ferrata wall or hike with zip-line. Accommodation itself will be a compensation for travel inconveniences. Its a dream come true for all those who love mountains.

Natura Vive Skylodge Hotel consists of three capsules which are separate apartments. In each of them, four people can relax together at the same time. Transparent capsules are suspended at a height of 120 meters above the valley and allow you to enjoy a 300-degree view of the majestic Sacred Valley. The capsules were hand made from aluminum and waterproof polycarbonate. Each apartment has four beds, a dining room and ... a bathroom!

The bathroom is separated from the bedroom with a special wall. In the middle, there is a dry toilet and a sink – everything with a view of the valley. Of course, each capsule has also curtains that can provide privacy, but we honestly doubt that anyone wouldn't admire a wonderful view behind the windows. Everything is complemented by comfortable mattresses and cotton bed linen, which provides warmth even during the colder night.

The apartments is about 7 meters long and 2,5 meters wide. They have six windows and four air ducts that provide a comfortable atmosphere inside the capsule. For safety reasons, exit is in the upper part of the capsule. Each capsule has also the lighting! Inside, there are four lamps and a reading lamp - all powered by solar panels!

One night in a double room costs $ 680.