EVENTS
"The True Cost" - The real price of cheap clothes
Text: Mariola Weindich-Mašek, photos: press release
24 August 2015
How often do you buy clothes? How many of them come from chain stores? You may not know this, but the low price of your clothes is often connected with terribly low wages and low standard of living of people producing them. When buying cheap clothes, you become partially guilty that they have such a hard life!!!
Today we invite you to the movie "The True Cost" - its premiere will take place on August 26-th in Warszawa. It is a document that will change your view of cheap clothing from chain stores and it will open your eyes to the real cost of fast fashion. Thanks to it you will understand why you should be original and not buy cheap clothes from chain stores!

The international premiere of the film took place on May 26-th, the audience around the world was touched by the image, including the worlds famous authorities in fashion, among others, Stella McCartney, Anna Wintour and Tom Ford, as well as movie stars - Colin Firth and Anne Hathaway. The actress described "The True Cost": "This movie opens eyes, a must see for those who love fashion and clothes, and at the same time want the world to be a better place".
Fashion Revolution Poland is the distributor of the film in Poland. The official Polish premiere of the film "The True Cost" will be held on Wednesday, August 26-th at 20:15 in Plażowa complex, 1 Wybrzeże Szczecińskie street, level -1 in Warszawa.

"The True Cost" is a story about clothes. Clothing prices are declining in the world for decades, while the social costs of production of clothes have increased dramatically. Repeated disasters in clothing factories; slave working conditions; diseases of children due to spraying cotton fields with pesticide; mass suicides among cotton farmers in India; tons of waste on dumpsters in developing countries. This ground-breaking documentary shows us the unknown face of fashion and encourages us to ask the question: who does really pay for cheap clothes?

The director of the film - Andrew Morgan admits that for a greater part of his life he did not pay attention to how his clothes were being produced. The change was sudden, when while reviewing the press, he noticed a terrific picture of two boys searching for their loved ones after the building tragedy in Rana Plaza complex in Dhaka, Bangladesh on April 24-th, 2013. Then 1133 people were killed and about 2500 people were injured. At this plant, clothes for major Western brands of clothing were sewn. The main reason of this- the largest construction disaster of modern times was common in the Third World work in conditions that risk the health and lives of employees.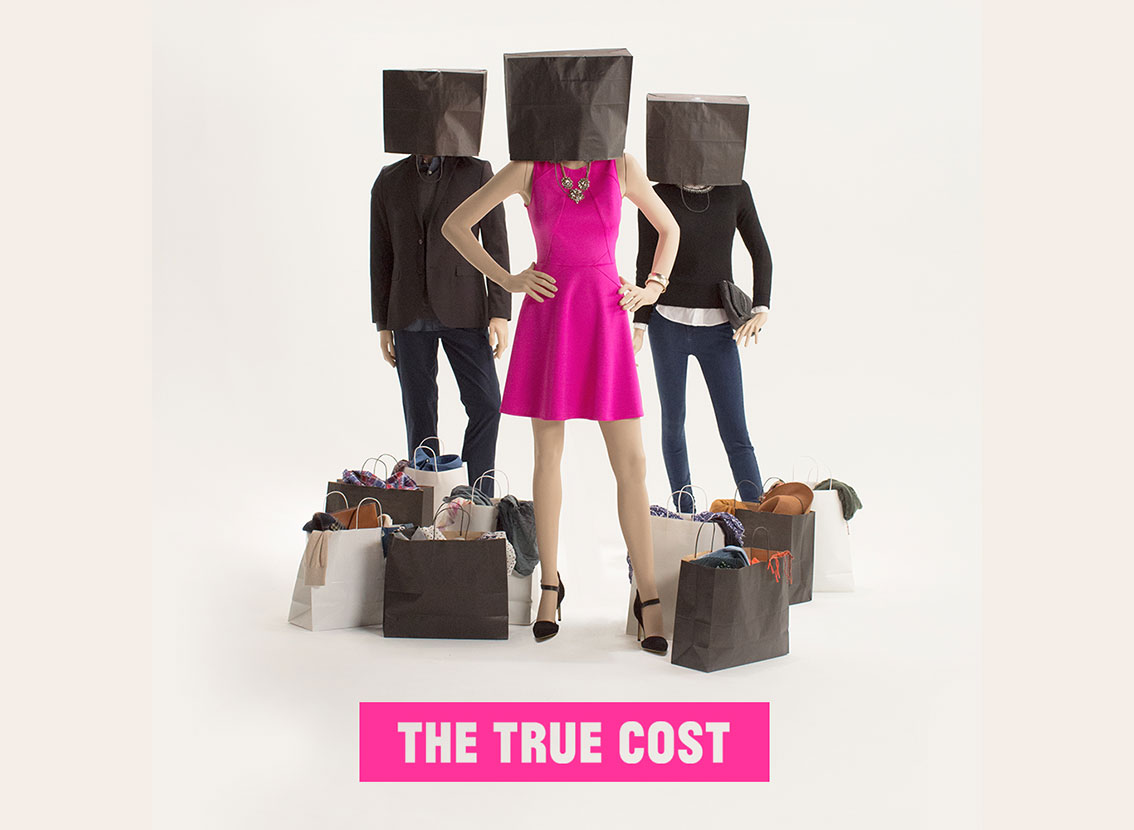 The clothing industry is the most dependent on human labour industry in the world. It employs millions of workers in peripheral countries, whose salaries are often below the wage that can allow survival. These people work in dangerous conditions in places, where workers' human beings' fundamental rights are not respected. Apart from the human factor, fashion has also a huge impact on the environment. After the fuel industry, it is the fashion industry that is responsible for pollution of the atmosphere in the greatest extent. One of the film producers is Livia Firth, the founder of Eco-Age foundation and initiator of the Green Carpet Challenge action, privately actor Colin Firth's wife. "People who are at the beginning of the supply chain in fashion industry in many cases, are treated like slaves. Fashion, that is clothes we wear every day, has huge social and environmentally friendly consequences. For about two decades we have observed the development of a so-called fast fashion. We buy about 500% more clothes than we used to do two decades ago. We are in an absurd circle of micro-trends; mini collection that are being changed in stores every week. In Western countries, cheap clothes are thrown away by consumers after approx. 5 weeks. I hope that our film will help to change the current model of the clothing industry. "

On average approx. 1.5 billion garments are produced each year, their production requires 40 million workers from 250 thousand factories located usually in countries recognized by the United Nations as the least developed. In these countries the minimum wage is lower than poverty threshold specified by the UN - $2 a day. Meanwhile, the value of the clothing and textile industry is estimated at 3 trillion dollars per year. Global fashion brands are now stronger than ever before. Their annual revenues are billions of dollars. They benefit financially, taking advantage of cheap labour in developing countries. For comparison, half a century ago, 95% of Americans' clothing was produced in the United States, today they produce only 3% of what they consume, the rest - 97%, is produced in developing countries.

Upcoming screenings in Poland:
The premiere of "The True Cost" will be held on Wednesday, August 26th at 20:15 in Plażowa, 1 Wybrzeże Szczecińskie street/ Level -1. Before the screening, at 19, a debate will be held: "The real price of fast fashion, a debate about the social costs of cheaper fashion. Should we have remorse while wearing clothes from chain stores?"

The discussion will be attended by: Dorota Wróblewska - the show producer and the promoter of fashion, culture and art; Cezary Szymanek - the editor-in-chief of Bloomberg Businessweek Poland and Sukces, Katarzyna Guzek - a spokesman for Greenpeace Poland and Anna Paluszek from Clean Clothes organizations.
Soon the film will be presented to Łódź residents, the projection will be held on Tuesday, August 25-th in OFF Piotrowska Center, and Bielsko - Biała - on September 20-th.

Admission to all events is free.