Centella&Lychee White Tree body butter
Text and photos: Anna Plaszczyk
20 September 2020
Centella&Lychee White Tree Body Butter is a real butter. It is thick, solid and fragrant. It moisturizes perfectly - not clogging pores. I can safely say that I am delighted with it. White Tree brand does not test its products on animals.

I have always thought that body a butter has a consistency of a real butter. Meanwhile, the products available in stores and called butter have the consistency of a thick body lotion - a perfectly smooth, fluffy and air-entrained. I know its not the air, but a large number of chemical ingredients that help to connect basic ingredients into one. For this reason, in my bathroom there are a few packs of these "butters" too smooth to be called butter. In my opinion they should rather be called "mousse" and not a "butter"...

Yet, Centella & Lychee body butter made by White Tree is different – it is thick and hard so you need to use your nails to take it out of the package. It is not a disadvantage. It is rather an advantage of this butter! Paradoxically – it can be spread on the body brilliantly. When it gets the temperature of your body – it melts and can be massaged into the skin. A similar effect can be observed in the case of a coconut oil.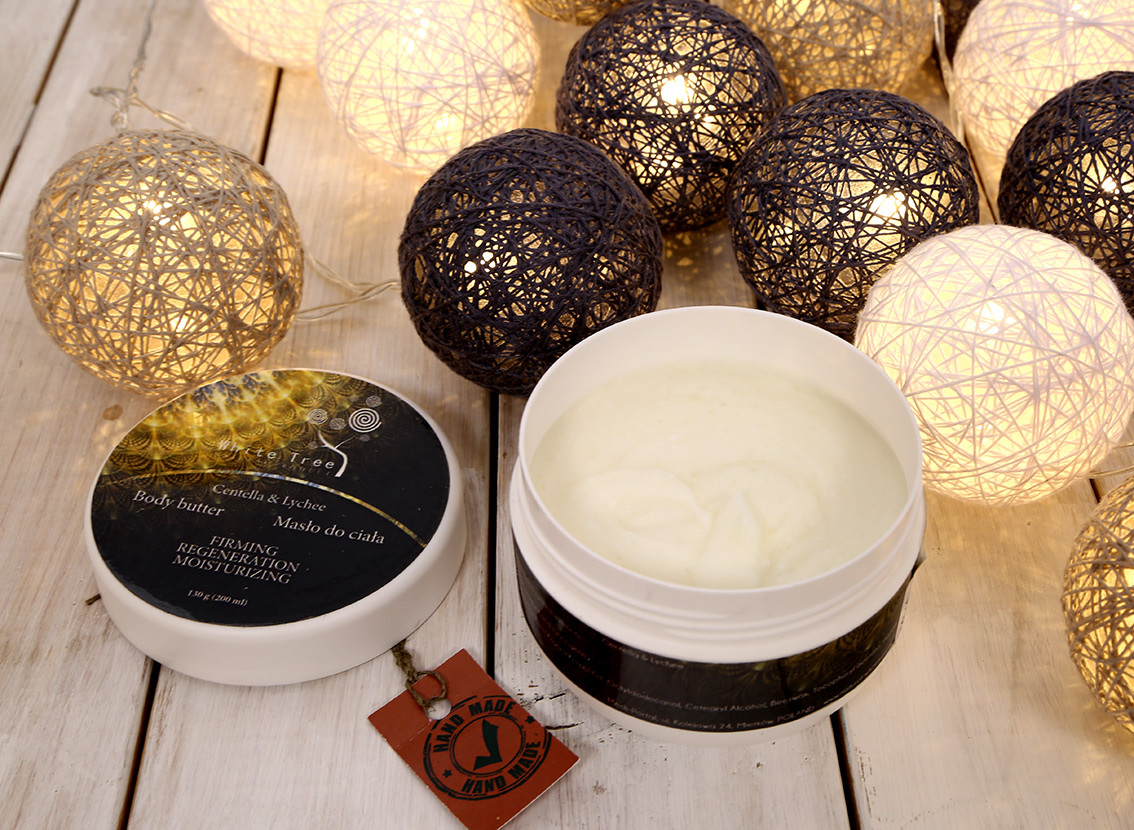 White Tree butter does not leave a greasy film on the skin. It leaves a fantastic, intensely citrus scent on the skin, instead. The butter can be absorbed easily. What is important to me – it does not clog pores and it takes care of dry skin very intensively. During the heating season, which has already started, my skin begins to peel off uncomfortably, it is tense and it starts to sore. Centella & Lychee can deal with such problems perfectly. Even elbows, knees and heels are well moisturized and nourished, the skin is smooth as a babys.

During cold days in October, while ascending a snow-covered Kasprowy Wierch, I decided to trust the brand and I put butter on my face. I knew that it is cold there- high in the mountains and did not want to expose the skin on my face to unpleasant consequences of my trip. It turned out that the lack of water in the butter makes it the ideal protection during cold weather. The oils from which the butter is made (by hand), can protect the skin from frost and wind perfectly. At the same time the skin was able to breathe easily. Why I am so sure? In Zakopane it was about ten degrees. Despite this, I did not feel "heaviness" on the face, usually experienced while using some "winter" products. After a few days of applying this butter on my face, I did not notice the effect of clogging the pores. The skin was well hydrated and nourished, it didn't glow and eczema didn't appear on it.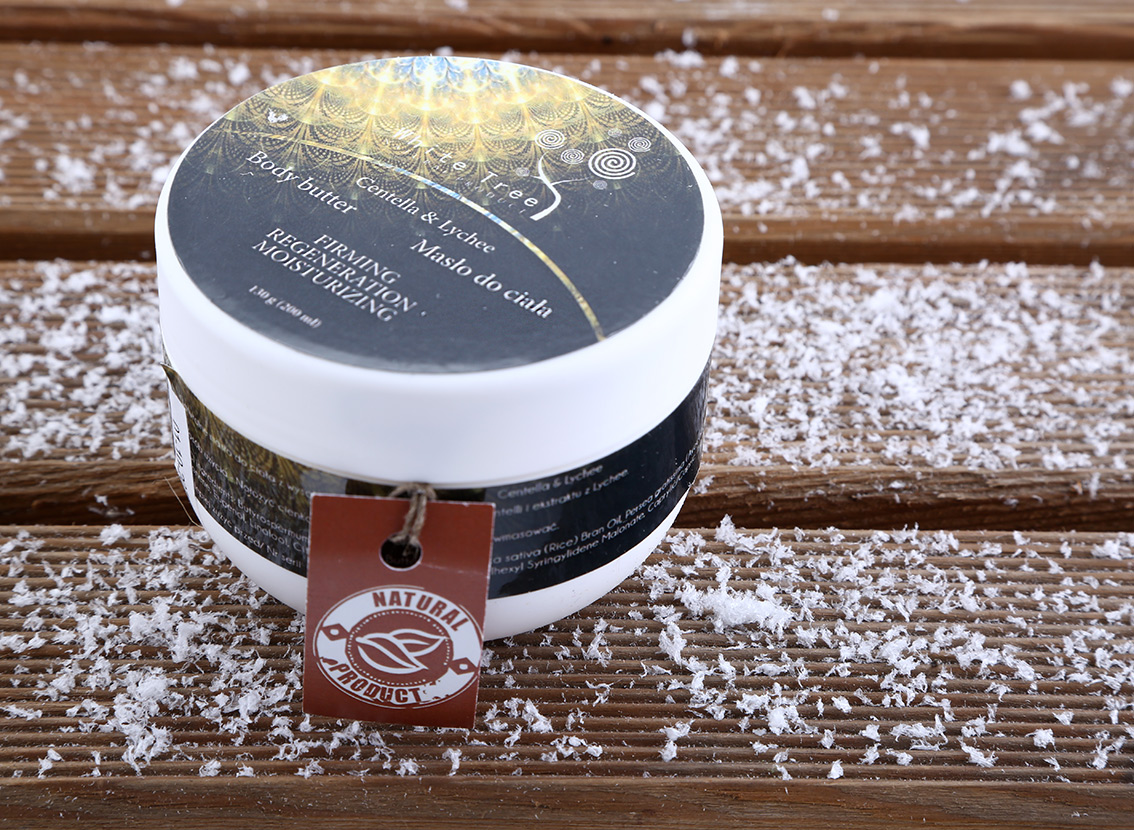 Centella, or Asian pennywort, used internally improves peripheral cerebral circulation, tones, relaxes and improves memory. In Ayurvedic medicine, Centella was used to treat: leprosy, wounds and psoriasis. It is often used as an addition to the treatment of burns and skin impurities (acne, herpes, hives). Today, because of its characteristics, it is used in cosmetics. It has a positive effect on the synthesis of collagen, elastin and structure of blood vessels. It is often a component of anti-wrinkle cosmetics, designed for vascular skin, firming and smoothing. Asiatic pennywort stimulates the cicatrisation of the skin and changes the structure of scars (e.g. stretchmarks). It smoothes them and reduces their discoloration. It can also soothe itchiness caused by insect bites and has anti-cellulite properties. The lychee extract, which is known from fruit counters, is a source rich in vitamin C. It protects the skin against water loss by maintaining proper hydration of the stratum corneum. It is also an antioxidant and it stimulates cell regeneration and collagen synthesis.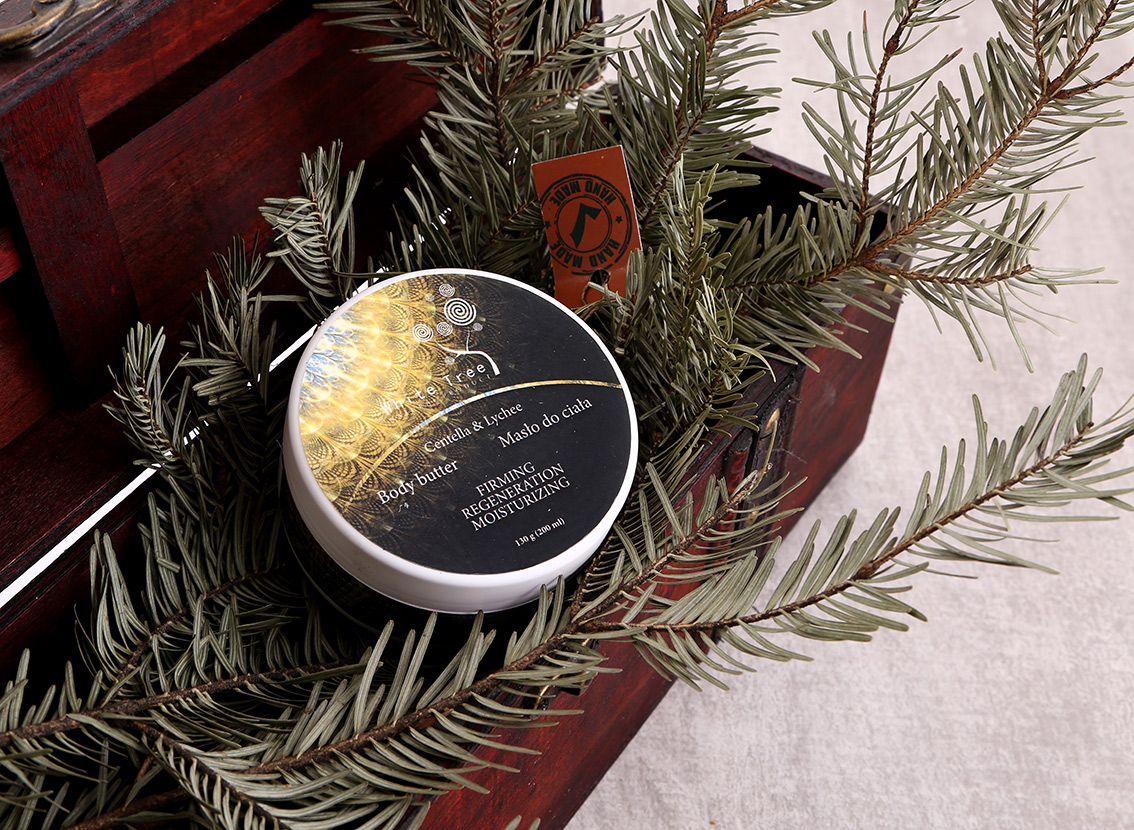 The composition of butter also contains BIO argan oil, stimulating cellular respiration process, it neutralizes free radicals, protects the connective tissue and rebuilds the skins lipid coat. Whereas, avocado oil moisturizes and strengthens the skins protective barrier and prevents aging. Shea butter, cosmetic hit in recent years, is a natural UV filter, it has anti-aging properties and it maintains skin elasticity. While, a rice oil moisturises and leaves the skin silky smooth and pleasant to the touch.

After several weeks of testing Centella&Lychee body butter made by White Tree, I can say that it is one of my favourite cosmetics. It smells nicely, it moisturizes and protects the skin. At the same time it is still very efficient. This cosmetic can be ideal for all those who appreciate quality more than a well-known brand from supermarkets. Centella & Lychee body butter (55,62zł/ 200ml) can be bought here.